This is a brief post related to the proper maintenance of zippers and snaps on marine canvas.   Many of the repair work that we do involves broken zippers or missing or damaged snaps.   Many of these repairs could be avoided, and much stress could be avoided if the owners simply maintained the zippers and snaps properly.
In the photos below you will see a few examples of studs that were not maintained and the resulting condition…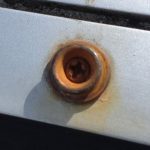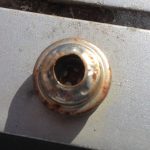 Frustration aside, these boats and covers needed extensive repair or replacement due to lack of maintenance.
Maintaining your snaps and zippers is easy.  Start by keeping things clean.   The hardware on the boat can be washed and polished just like everything else and a toothbrush can be used to clean the crud around them.   You can also use some metal polish to clean and brighten them up.   If they are rusty or just wore out, get them replaced.   Most are snap on or screw in and are available at most marine retailers or in our shop for the do it yourselfers.
Once they are cleaned, a small amount of zipper and snap lubricant will make them easy to put on and off. This should be applied once per year as a general maintenance item.   I have heard of many snake oil remedies people use to lube the snaps, but for about $10 you can buy a good proven commercial product.   We stock and recommend IOSSO Ez-Snap Lubricant pictured below.  This can be bought online through many marine retailers or in our shop for about $10.
To apply to studs on the boat simply place small mount on your index finger and rub it on the shoulder of the stud.   You can usually do 3-4 studs before needing to reapply the lubricant.   To apply to zippers the same principal applies, rub along one side of the zipper and then connect and work the zipper back and forth a few times.   The result will be zippers than work better than new!
Contact us for additional details or to purchase snaps, lubricant or to have repairs done to your boat or canvas.  Happy Boating!
Dave