Mooring Covers are designed to keep your boat clean and dry and protected it from the harsh rays of the sun. We regularly see boats that have damaged or worn out covers and many times it's the fault of the boat owner and not the canvas fabricator, however in some cases it is just a cheap mass produced cover that was inherently going to fail.
In this post we will will discuss how to get the most out of your mooring or cockpit cover and how to make the right choices.
Sourcing a cover – The are many choices to consider when choosing a cover for your boat. These include mail ordering from a catalog company, ordering a replacement cover from an OEM company or hiring a local canvas fabricator to make a custom cover. There are vast differences in the quality and price of these different options and the canvas fabricator will always be the most expensive, but will usually produce the highest quality product with the best fit for your boat.
Cheap Mail order covers from places like Overton's or Amazon will rarely last and will have all kinds of fit issues. OEM covers from places like Great Lakes Boat Top or Ameritex will provide a decent cover but will not be an exact fit for your boat, especially if changes were made after it left the factory like adding a Bimini top. In some cases the customer doesn't even know what material is used in making these covers and often its not a high quality product and sewn with cheap cotton thread. A custom marine fabricator will typically make thier own pattern with very tight tolerances to perfectly fit your boat.
Quality differences – Most covers look great when first installed, especially if replacing an old worn out cover. However there are vast differences in the way covers are fabricated and what components went into making them. The right fabric, the right thread, proper reinforcing around the edges and abrasion points and proper support are the main considerations. Most mass produced covers are sewn with cotton thread and have little reinforcing (Facing) around the perimeter where the snaps go and usually we see them tear out in a short time. Fabrics also stretch differently dependent on how the fabric is used. The technical weaving term for this is warp & weft. Consider a roll of fabric that is 60 yards long on the roll. Warp is the long way as it comes off the roll, Weft is the edge to edge from left to right as it comes off the roll. Obviously the threads are longer on the warp and as a result are tighter and have less stretch. A cover that has a seam down the middle lengthwise will ultimately be stronger and have less chances of pooling but will use more fabric and have more waste, hence the reason mass produced covers are really made like this.
The thread choices include cotton, polyester blend and PTFE. Typically only a custom fabricator will use PTFE due to the high cost, but that thread is guaranteed for life. Brand names for PTFE threads include SolarFix, Tenara and Profilen to name a few. You can pretty much guess what thread is used on the cheapest covers.
Proper support and tension – All covers need mooring poles to support them. Sometimes on large covers 2-3 poles are required. The goal is to create enough pitch so the water will shed. If the cover isn't properly supported the water will pool and ultimately stretch the fabric in a way that is un-reversible. There are various ways to pitch covers including the use of telescoping poles and fiberglass bars. Regardless of what is used it must be as tight as possible. TIP: tension the poles as much as possible and mark around the pole with a sharpie where that position is. This way if a pole collapses you have a starting point for proper tension. In addition there are different ways the pole attaches to the cover including using a snap on the top of the pole, using a tent stake that goes through a grommet and also using a boat Vent which provides support and also lets the cover breathe. A padded foot can be added to prevent poles from "kicking out" in buffeting winds and collapsing your cover. Below are a few images of poorly designed and poorly supported covers…
Below are photos of the padded foot and BoatVent that can be used to properly support the cover.
Care and Maintenance – It is important that you properly care for any canvas product, especially a mooring cover. Each fabric manufacturer will have their own recommendations, however that pertains to their fabric, with no consideration the the thread that was used. For example on Sunbrella website under care and maintenance they say you can use a bleach / water solution if you get mold in the cleaning process. However if cotton thread was used in fabrication of the cover, the bleach will destroy it and the cover will fall apart. The same goes for many waterproofing chemicals, they destroy cheap thread.
Our advise is simple, hose if off with clean water and then use a mild soap and water solution like Dawn dish soap and a soft bristle brush to remove stubborn stains like bird poop. Let it dry in the sun and reinstall. Only use waterproofing as a last resort when the cover starts to reach the end of its life, and only if the cover was sewn with a high quality poly blend or PTFE thread.
The RCC difference – We have made hundreds of mooring covers as there are many small runabouts used in our boating area. All of our covers are made from properly pre-tensioned Sunbrella with three layers of Sunbrella facing around the edges and reinforcing patches for poles and at all abrasion points on the boat. In addition we offer and recommend SolarFix PTFE thread but will also use Sun Guard Poly blend to save a customer some money if necessary. Covers are supported with telescoping poles with boat vents so the moisture can escape when covered up. Below are a couple example of our tight fitting custom mooring covers and there are many more in the photo section on our website.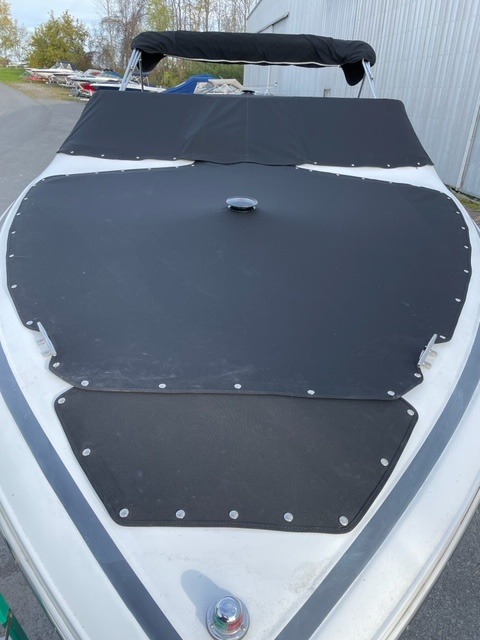 A custom cover isn't cheap, but the damage done to a boats upholstery, carpeting and electronics is far more expensive in the long run. / David